Micro Control Company: Satisfying Customers since 1994
Customers in need of customized but cost-effective printed-circuit-board (PCB) solutions can find them at Micro Control Company, a versatile provider of electronic manufacturing services (EMS) that can meet a wide range of customer requirements. The firm employs the latest electronic manufacturing technology on its assembly floor to achieve different component configurations and meet the needs of modern design engineers. The privately held business was founded in 1972 to provide manufacturing test and burn-in equipment for some of the world's largest semiconductor manufacturers. The company expanded into EMS in 1994, becoming a high-mix, low-and-medium-volume manufacturer of PCBs and electronic assemblies. The company brought years of electronic design experience into the manufacturing side of electronics, with expertise in designing and assembling a variety of PCB materials with both lead-containing and lead-free manufacturing processes. The firm continues to grow, increasing both its capacity and service capabilities. Micro Control Co. is in conformance with ISO 9001-2008 and is registered as an ISO 9001-2008 company. The firm currently has 21,000 ft2 of floor space dedicated to electronic contract manufacturing of PCBs and PCB assemblies, end-item assemblies, and box builds.
Service Options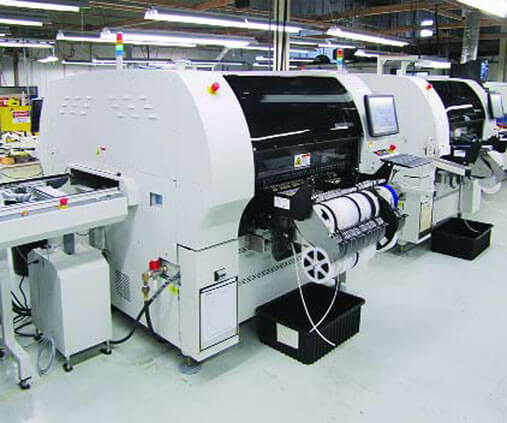 Service Options Micro Control Co. offers a wide range of service options. For some customers, the main requirement involves populating PCB assemblies, and Micro Control Co. is pleased to meet their needs with program options of turnkey, consignment, and combinations thereof. Some customers may require a higher level of service, such as quick-turn prototypes, cable-and-harness integration, extensive functional testing, conformal coating for environmental protection, end-item assembly (boxbuild), and even drop shipping to an end user. To meet a wide range of electronic manufacturing needs, Micro Control Co. collaborates with several local design firms that will work directly with the customer on their electronic and mechanical designs without being a cost overhead for the customers who do not need those services. Along with manufacturing circuit assemblies to a standard board size of 18 x 20-in. (360 x 508mm), Micro Control Co. offers extensive large-circuit-board assembly capabilities. With limited operator intervention, the firm can produce circuit-board assemblies as large as 24 x 24-in. (609 x 609mm) with automated component placement, reflow, surface-mount-technology (SMT) inspection, selective soldering, and deionized (DI) wash. The company works with each customer to create a program that is cost-effective, using only the goods and services needed, while meeting that customer's specific needs.
High-Speed Assembly
Using the latest component placement equipment, Micro Control Co. operates two high-speed automated placement lines, solder paste printers with vision, nine-zone reflow ovens, and in-line automated optical inspection systems. The company also employs automated dispensing equipment for gluing and specialized solder placement. A standalone placement system is used for prototyping and small production runs. As a value-added service, conformal coating is available, employing products in which Micro Control Co. has some expertise and has used with success in the past, including certain silicone and acrylic materials. The company uses automated optical inspection (AOI) systems on its high-speed placement assembly lines. When complemented by the firm's complete functional test capabilities, customers gain the assurance of receiving the highest-quality manufactured assemblies from these high-speed assembly lines. In addition to full functional testing, customers also receive one full year of a workmanship warranty to back the quality of assembly. For professional and quick automated replacement and rework of components, Micro Control Co. has just added a new large board rework station capable of reworking any PCB assemblies up to and including those measuring 24 x 32-in. (609 x 812mm). The board rework station can also be used for reworking large, high-mass components, providing advanced rework capabilities to address the industry's most difficult, thermally challenged designs. Micro Control Co. replaced its wave solder machines several years ago with programmable, selective-soldering equipment that is more environmentally friendly and produces a higher-quality solder joint with less thermal shock to each component being assembled. Selective soldering is used for most through-hole components and solders only the pins protruding from the circuit boards. Selective soldering also improves the product quality and is the preferred pin soldering method that allows for surface-mount technology (SMT) and though-hole components to be placed on both sides of the circuit boards. Micro Control Co. specializes in hard-to-place components such as micro-to-macro ball-grid-array (BGA) packaged devices and 0201 packaged devices, and uses x-ray inspection to ensure accurate placement. For SMT solder paste application, the firm employs a stencil universal framing system for a cost-effective application and for effective storage.
Latest Manufacturing Software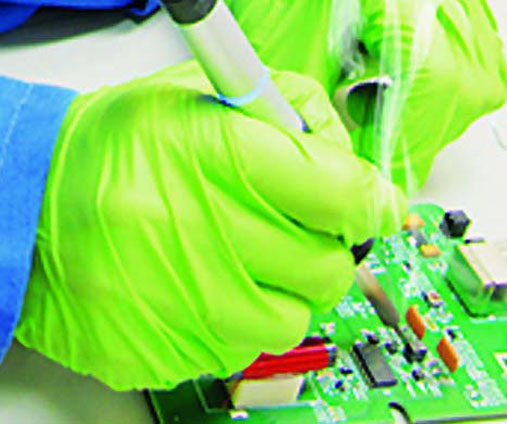 The company employs the latest manufacturing software designed for use in an electronic manufacturing environment. When a customer provides a data package, the customer's bill of materials (BoM) and computer-aided design files are imported into the manufacturing system, creating complete assembly and product routing information. When any changes are made to a product or process, they are completely documented and tracked, providing precise configuration control and virtually eliminating costly build errors. Micro Control Co.'s investment in the latest manufacturing data management tools provides the best foundation on which to build future growth. Micro Control Co. pursues worldwide sourcing agreements to ensure the lowest-costing components and subassembly purchases, helping to maintain the cost-effective solutions that the company is known for providing. These savings translate into lower overall costs for customers, using the company's purchasing power to procure customer specified components at the most competitive prices available. Micro Control Co. continues to show dedication to quality by upgrading its ISO registration to ISO 9001/2008 in 2009. Customer satisfaction is monitored through semiannual customer surveys, weekly quality reviews, and semi-annual reviews by management. The company builds all assemblies to customers' requirements of IPC-A-610 Class 2 or 3 to guarantee customer satisfaction through the highest quality of manufacturing. The firm also adheres to each customer's BoM and approved manufacturers list, ordering only the components that a customer has specified and not substituting a different part without prior customer approval. Production assembly and inspection personnel are trained per IPC-J-STD-001 and IPC-A-610 standards for work on PCB assemblies. The company is active in many arenas, serving the needs of customers in a wide range of areas, including in medical, industrial, computer, consumer, telecommunications, radio frequency (RF), global positioning system (GPS), and health/fitness markets. A special area of expertise is in the ever-expanding field of high-power SMT light-emitting diodes (LEDs), which produce high on-circuit heat levels and have led customers to use metalized PCBs for effective dissipation of heat. Micro Control Co. has the knowledge, experience, and equipment necessary to efficiently and quickly place SMT LEDs on circuits without causing heat problems, and to properly place all other components selected by customers on any type of circuit substrate.
Contact:
Micro Control Company,
7956 Main Street NE, Minneapolis, MN 55432
763-259-3311